_______________________________________
Hello everyone, we hope you are all staying well out there.
Just to let you know that our humble little store will be keeping regular hours for all your motorcycling needs. We are the grocery store for your motorcycle!
Please remember that if you are staying in doors that we do have most of our stock available online.
We have reduced shipping costs in place also free shipping on orders over $99* (Certain conditions apply), just give us a call and we can arrange the special shipping discounts.
We can perform curbside deliveries within a 15km radius if you are in self quarantine.
If you do not want to get out of your car and come into the store, give us a call and we can have your order placed outside our door for you to pick up.
Most importantly, lets try not to let this COVID-19 get us down. The weather in nice, gas is cheap! Get yourself out for an isolated, social distancing, therapeutic ride on your motorcycle and let us help you on the way.
You can always contact us via phone or e-mail if you need us.... We are adaptable and willing to take care of your needs.
Take care out there folks!
From the Universal Cycle team.
_______________________________________
_______________________________________
35+ Years in business! Established in 1984 by founder Don Fergin to offer a wide range of products and services to the motorcycle rider, Universal Cycle has grown to become the premier largest independent motorcycle shop in Calgary and surrounding area.
We provide value to the consumer with the best selection of quality products we use ourselves and trust for you. You too can have access to our high caliber experience and expertise through our services center and parts department. Our 7000 square feet facility is jam packed with product.
Our knowledge and integrity will help you make the correct purchase decisions. We subscribe to Better Business Practices. We are active supporters and members of the Canadian Motorcycle Drag Racing Association (CMDRA) & the Canadian Vintage Motorcycle Group (CVMG).
Ridin', Racin' & Restorin' are what we're about.
With an extensive selection of tools at our disposal including our Dynamometer, we can help your bike operate at peak performance! Our machine shop is fully equipped for any re-bore or valve job you need performing. We are licensed to perform Out of Province inspections, Insurance inspections, Salvage inspections and pre-purchase inspections. In addition to these services, we also have two Ultra-Sonic cleaning tanks and a Vapor Blasting machine for all your restoration needs!
Universal Cycle is the Canadian importer of the official Drayko Jeans from Australia. Drayko Jeans offer comfort, style and safety, so whatever your preference, check out our vast selection of men's and ladies jeans. For you KLR650 owners out there, we have the largest inventory of parts and accessories in Alberta for your 1st or 2nd generation KLR650, check out our KLR section in store or on our website.
Take a tour of our store:
The motorcycle industry is a very supportive, tightly knit network of knowledgeable, passionate individuals who love this pastime.
We would like to support one of our long standing supplying partners, Motovan.
If you click the logo below, it will take you to their web store from which you have access to even more good stuff. Although our little store has a load of items, these guys carry waaay more!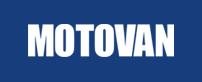 Plus, you will be supporting us as you will be viewing their web store with us set as your preferred motorcycle store.
Thank you again for your loyalty and support!