• Flat rate shipping of $10 on orders over $99* • FREE SHIPPING on orders over $199*
*This offer applies to items under 10lbs / cubed weight. No PO BOX or RR Addresses.
• 10% OFF In Store Pick Up - Use coupon code: THANKYOUCALGARY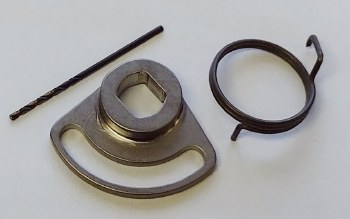 Doohickey & Torsion Spring Kit
$89.00
Basic lever (doohickey) kit with torsion spring and drill bit

Fits: 1987 - 2018 Kawasaki KLR650

Part number: blk


Description:

This basic kit only has the doo, torsion spring, and drill bit - does not include gaskets or the special tools.

The famous Eagle "doohickey" aka balancer adjustment lever. Machined from solid 17-4ph stainless stell that was heat treated to H900 condition. This is the strongest and best doohickey you can buy. There are copies, but none are as good. We have hade small improvements since the first one was machined in the early 2000's.

Now includes the toirsion spring. This is absolutely the best setup for adjusting your coiunterbalancer system in the KLR650 engine. The torsion spring has these fetures that the extension spring doesn't:

Captured on install

Takes the slack from the system in the best way

Does not constantly stretch and relax while the engine is running

Much longer adjustment arc compared to extension spring setup.

Much more even tension as the system adjusts.

The rotor bolt is also considered a one-time use part, so be sure to order one of those.

You will need special tools to complete the install. These are available separately

Please tell us if you have either the 2008/9, or any other year option. We need to know if it's a 2008 or 2009 so we can include the spacer for the deep hole issue. All 2008 and early 2009 engines have a deep hole issue in the left side outer cover. We will include a (free) bushing /spacer for this. (last five of the VIN 20800 or below).
Customer Reviews
This product has not yet been reviewed.