• Flat rate shipping of $10 on orders over $99* • FREE SHIPPING on orders over $199*
*This offer applies to items under 10lbs / cubed weight. No PO BOX or RR Addresses.
• 10% OFF In Store Pick Up - Use coupon code: THANKYOUCALGARY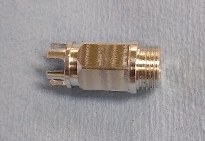 Choke Nut KLR650 - Stock Carb
$30.00
Enricher Nut / Choke Nut - Aluminium

Fits: 1987 - 2018 Kawasaki KLR650 - Stock Carburetor

Part number: chokenut-w / kecn - A


Description:

Replacement Aluminium enricher nut, or choke cable nut, for the factory carb (CVK40).

Upgrade from original plastic part. Much stronger but still can be broken if you're not paying attention. Use caution and care when working on or around the part.
Customer Reviews
This product has not yet been reviewed.