• Flat rate shipping of $10 on orders over $99* • FREE SHIPPING on orders over $199*
*This offer applies to items under 10lbs / cubed weight. No PO BOX or RR Addresses.
• 10% OFF In Store Pick Up - Use coupon code: THANKYOUCALGARY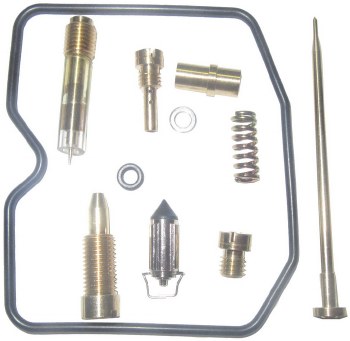 Carb Rebuild Kit KLR 08-16
$50.00
Shindy Carburetor Repair Kit

Fits: 2008 - 2016 Kawasaki KLR650

Part number: 03-792


Description:

Carburetor Repair Kit by Shindy®. Complete kits to rebuild O.E. carburetors. Each kit contains all necessary parts, such as: jet needles, main and slow jets, float chamber gaskets, and float valves. Shindy award winning rubbertop float valves are made using highest quality rubber and a plated body for resistance to harsh gas, ethanol and methanol. This top-grade product is expertly made in compliance with stringent industry standards to offer a fusion of a well-balanced design and high level of craftsmanship. Manufactured from industry-leading materials using up-to-date equipment, it ensures everlasting reliability and enduring value. This product is distinguished by total quality assurance, unsurpassed by anybody else.


Features:

Tried and tested for years by loyal customers in the industry

Made in Japan using only the best materials

Each complete kit rebuilds OEM carburetors to achieve optimum performance

Included are main and pilot jets, jet needle sets, float valves, float chamber gaskets and o-rings

Idle screw sets, pilot screw sets and air screw sets also included if applicable

The jets included in each kit is for common sizes

According to riding conditions and riding preference, different size jets may be used

Precise engineering ensures second to none quality and lasting value

Unique, dependable, and functional

Expected to withstand harsh conditions


Shindy® was established in 1986 to import quality Japanese motorcycle parts. Today, they continue to import only the top quality parts available and strive to ensure full satisfaction of customers. Shindy offer specialty high performance and replacement parts for motorcycles and ATVs.
Customer Reviews
This product has not yet been reviewed.