• Flat rate shipping of $10 on orders over $99* • FREE SHIPPING on orders over $199*
*This offer applies to items under 10lbs / cubed weight. No PO BOX or RR Addresses.
• 10% OFF In Store Pick Up - Use coupon code: THANKYOUCALGARY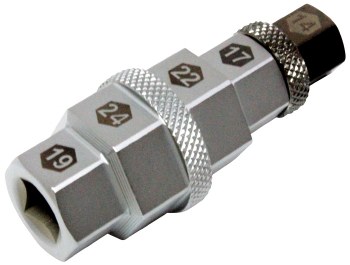 Axle Tool 5in1 14-17-19-22-24
$26.00
Keiti Additions 5 in 1 Axle Tool

Fits: 2008 - 2018 Kawasaki KLR650 Front Axle (14mm)

Part number: 1702000


Description:

Use with 3/8" SQ. DR. on both ends and hex wrench. This tool will allow you to remove the front wheel on any motorcycle that has a 14, 17, 19, 22 and 24 mm female hex on the wheel or an where else a large hex is needed.


* Item may differ slightly from image.
Customer Reviews
This product has not yet been reviewed.