• Flat rate shipping of $10 + A FREE tire gauge on orders over $99* • FREE SHIPPING + A FREE tire gauge on orders over $199*
*This offer applies to items under 10lbs
• 10% OFF In Store Pick Up - Use coupon code: THANKYOUCALGARY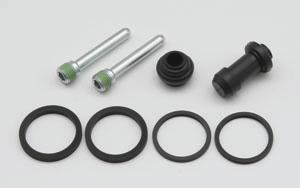 Caliper RebuildKit Re KLR08-11
$47.00
Caliper rebuild kit - Rear

Fits: 2008 - 2011 Kawasaki KLR650

Each kit includes all necessary rubber components and pad hanger pins if it is applicable. Made by Nissin, and O.E. manufacturer in Japan


*The image is just an example. Items may differ slightly.
Customer Reviews
This product has not yet been reviewed.