• Flat rate shipping of $10 on orders over $99* • FREE SHIPPING on orders over $199*
*This offer applies to items under 10lbs / cubed weight. No PO BOX or RR Addresses.
• 10% OFF In Store Pick Up - Use coupon code: THANKYOUCALGARY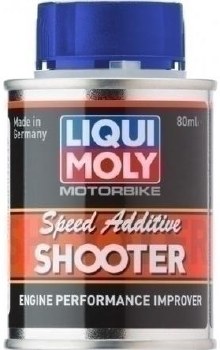 Liqui Moly Shooter Speed ADD
$8.00
Liqui Moly Shooter Speed Additive

Size - 80ml

Description

State-of-the-art, ash-free combination of agents with acceleration-enhancing, cleaning, dispersing and material-protecting properties. The product has been formulated using state-of-the-art additive and fuel technologies in accordance with the requirements of today's engines, fuels and running conditions. Ensures increased driving enjoyment due to optimized performance. The engine starts easier and also runs smoother.

Add to the fuel tank. For the optimum effect, add every time you refuel. Fully compatible with all gasoline grades. 80 ml is sufficient for up to 10 liters of fuel.

* Product may differ slightly from image
Customer Reviews
This product has not yet been reviewed.