• Flat rate shipping of $10 on orders over $99* • FREE SHIPPING on orders over $199*
*This offer applies to items under 10lbs / cubed weight. No PO BOX or RR Addresses.
• 10% OFF In Store Pick Up - Use coupon code: THANKYOUCALGARY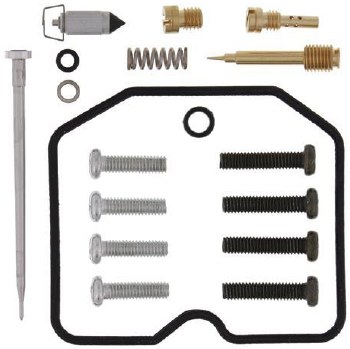 Carb Rebuild Kit KLR 87-07
$45.00
All Balls Carburetor Repair Kit

Fits: 1987 - 2007 Kawasaki KLR650

Part number: 26-1099


Description:

Kits include all the necessary components to repair a carburetor.

Models with multiple carburetors include components to repair all carburetors.

Kit includes all necessary o-rings, gaskets, jets, needle, mixture screw, float bowl screws, float valve needle and seat. (Needle jet and other pressed in jets are not included in kit)

OEM jet sizes and slide needles are included in the kit.

FCR MX style carb kits include extended fuel mixture screw.

KTM and Husqvarna Kits do not include jets or slide needle as standard jetting sizes are not provided by KTM.

NBR rubber material is used on all O-rings and rubber gaskets NBR has excellent resistance to the ethanol fuels.

Applications that use paper float bowl gaskets are upgraded to High Performance Interface Gasket material.

Components included in the kits are based off US models and discretion must be used when attempting to install the kit on a non-US model.

Off road use only.
Customer Reviews
This product has not yet been reviewed.