• Flat rate shipping of $10 on orders over $99* • FREE SHIPPING on orders over $199*
*This offer applies to items under 10lbs / cubed weight. No PO BOX or RR Addresses.
• 10% OFF In Store Pick Up - Use coupon code: THANKYOUCALGARY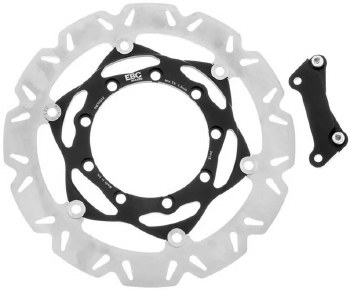 EBC 320 Front Rotor KLR 87-07
$399.00
EBC SMX6042 320mm Oversize Front Brake Rotor

Fits: 1987 - 2007 Kawasaki KLR650 *

Part number: SMX6042


Description:

EBC supermoto range discs are 100% British-made using billet alloy centre hubs attached to European mill-rolled, heat-treated and tempered stainless DB420 steel. The centre hubs are attached to the rotor ring using EBC's patented SD-System (square drive) rivets that prevent distortion under heavy braking, making these a perfect upgrade oversize rotor for enduro style bikes.

The oversize brakes improve braking and control by up to 30% and are supplied with a billet alloy relocation bracket (BRK017) and hardware to position the original caliper perfectly.


* You may need a relocation bracket to fit this oversized brake rotor to your KLR650. If you have any questions about this item, please contact us.
Customer Reviews
This product has not yet been reviewed.