• Flat rate shipping of $10 on orders over $99* • FREE SHIPPING on orders over $199*
*This offer applies to items under 10lbs / cubed weight. No PO BOX or RR Addresses.
• 10% OFF In Store Pick Up - Use coupon code: THANKYOUCALGARY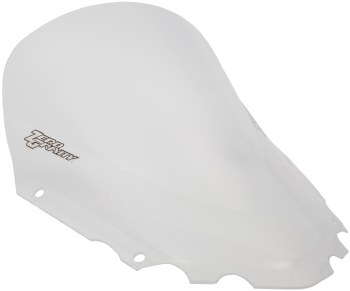 Windscreen ZG KLR650 08 DB CLR
$136.00
Zero Gravity Double Bubble Windscreen Clear - 16-206-01 Kawasaki KLR650 2008-2018

Fits: 2008 - 2018 Kawasaki KLR650

Part number - 16-206-01

Colour: Clear


Description:

All Zero Gravity windscreens offer superior optical quality, strength plus flexibility, exceptional fit and finish, plus race-proven performance

Developed by Zero Gravity R&D in 1995 for Team ZGs race bikes, the Double Bubble is now seen on race tracks around the world

Made from the finest grade of 1/8in. acrylic plastic. Each windscreen is stretched as it is formed, a process which results in superior strength and flexibility. This flexibility allows the windscreen to absorb road vibrations and resist cracking

Formed with a wedge-shaped bubble in the center of the windscreen, the Double Bubble was originally designed to provide superior aerodynamics for a rider tucked in behind the windscreen

Adds a sleek, aerodynamic look to the exciting designs of todays new sportbikes


* Item may differ slightly from image.
Customer Reviews
This product has not yet been reviewed.