• Flat rate shipping of $10 + A FREE tire gauge on orders over $99* • FREE SHIPPING + A FREE tire gauge on orders over $199*
*This offer applies to items under 10lbs
• 10% OFF In Store Pick Up - Use coupon code: THANKYOUCALGARY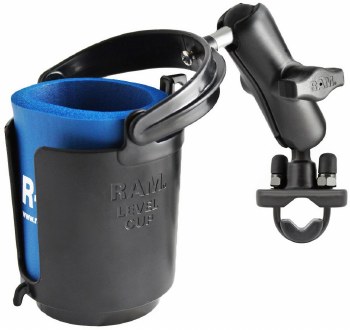 Ram Cup Holder w/ Bar Mount
$63.00
RAM Handlebar Rail Mount with Zinc Coated U-Bolt Base, Self-Leveling Cup Holder & Koozie

Product Number: RAM-B-132RU


The RAM-B-132RU consists of a zinc coated u-bolt base, double socket arm and self-leveling drink cup holder with koozie. Included in this package is hardware that will accommodate rails from 0.50" to 1.25" in diameter. The base includes black cover caps to be placed over the exposed ends of the u-bolt. The included composite rail adapter can narrow the rail to a minimum width of 0.5". The mount is designed with a RAM 1" diameter patented rubber ball and socket system that has adjustment points at both ends of the double socket arm; this allowing for almost infinite adjustment and perfect viewing angles. The drink cup holder has two pivot points, allowing for your drink to always stay upright and never spill.

U-Bolt Dimensions:
Accommodates rails from 0.5" to 1.25" in diameter.
Customer Reviews
This product has not yet been reviewed.