• Flat rate shipping of $10 on orders over $99* • FREE SHIPPING on orders over $199*
*This offer applies to items under 10lbs / cubed weight. No PO BOX or RR Addresses.
• 10% OFF In Store Pick Up - Use coupon code: THANKYOUCALGARY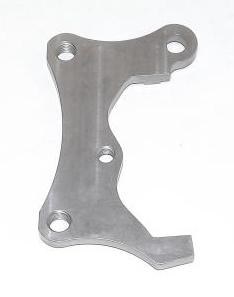 ADPT PLT 320 RTR KLR 08-18 SL
$47.00
Caliper Adapter Plate for 320mm Rotor

Fits: 2008 - 2018 Kawasaki KLR650

Part number: 320CB8SL

Colour: Silver


Description:

Want to fit a 320mm front brake disk to your 2008 and later KLR650? Here is a proper fitting caliper plate. Many have had issues with the aluminum spacer supplied with the 2008 version of the EBC kit. This one does it right. You'll still need to use decent shop practice to install, but it's not hard. You'll use simple shop tools and some loctite. Allow about an hour for mounting both the 320 rotor to the hub and installing this caliper plate. Lots of happy users!


Important: Use stock or EBC pads with this. Many have reported problems with Galfer at this time. If this changes I will update.


* Item may differ slightly from image.
Customer Reviews
This product has not yet been reviewed.