• Flat rate shipping of $10 + A FREE tire gauge on orders over $99* • FREE SHIPPING + A FREE tire gauge on orders over $199*
*This offer applies to items under 10lbs
• 10% OFF In Store Pick Up - Use coupon code: THANKYOUCALGARY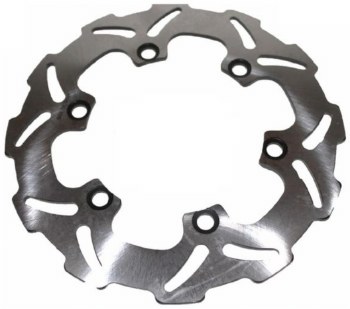 JT Brake Disc KLR R 89-07
$107.00
JT Brake Disc - Rear

For 1989 - 2007 KLR650

JTB2151SW01
Customer Reviews
Average rating:
---
Nice quality part!, 7th Dec 2017
Reviewer: Daryl Martel
This is a very nice looking brake rotor, appears to be very nicely machined, and fit perfectly on install. The only gripe I have is that it's thinner than stock. A stock OEM rear rotor is 5 mm thick with a minimum (replace at) thickness of 4.5 mm. This Made-In-Thailand rotor is 4.5 mm thick, and has stamped on it minimum thickness of 3 mm.