• Flat rate shipping of $10 on orders over $99* • FREE SHIPPING on orders over $199*
*This offer applies to items under 10lbs / cubed weight. No PO BOX or RR Addresses.
• 10% OFF In Store Pick Up - Use coupon code: THANKYOUCALGARY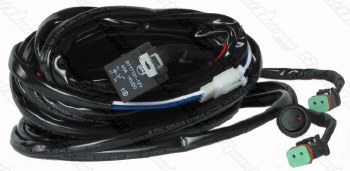 Speed Demon 2-Light Harness H2
$35.00
Speed Demon H2 - 2 Light Harness

Universal Plug and Play Wiring Harness with On/Off Switch. For use with 2 lights with a maximum 120 watts each, 240 watts total.


Specifications:

With 2-pin Dt connector for 2 lamps

Easy Installation Guide

Works with all Speed Demon Lights up to and including 120 watts

Set includes Wiring Harness & Switch

30A/12V DC Relay
Customer Reviews
This product has not yet been reviewed.