• Flat rate shipping of $10 + A FREE tire gauge on orders over $99* • FREE SHIPPING + A FREE tire gauge on orders over $199*
*This offer applies to items under 10lbs / cubed weight. No PO BOX or RR Addresses.
• 10% OFF In Store Pick Up - Use coupon code: THANKYOUCALGARY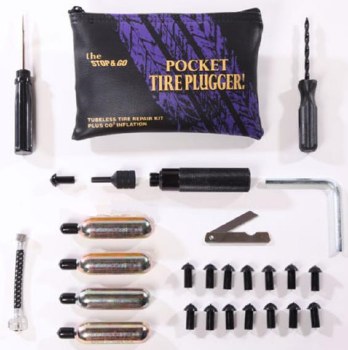 Tire Plugger Tubeless w/ CO2
$96.00
Pocket Tire Plugger With Co2 Inflation Sytem - For Tubeless Tires!

Why be stranded? This kit gives you the ability to perform the most effective repair possible without dismounting your tubeless tire. And if you operate a Motorcycle, ATV, Golf Car, Small Tractor, Utility Vehicle, or Wheelbarrow you're going to be back in action in just a few minutes.

With the addition of (4) 16 gram canisters of 100% pure high velocity CO2 gas and the 4" fully flexible Adapter with solid brass fittings this kit becomes everything needed to repair and re-inflate your tire.


Package Contents

Nozzle

Tire Plugging Device

(4) Steel Canisters containing 16 grams each of 100% pure high-velocity CO2 gas

Probe Tool

Reamer/Rasp Tool

Hex Wrench

(15) Mushroom Plugs (5/16" diameter shaft x 3/4" length stem)

Retractable Razor Knife

Extra Zip Lock Bag

Tire Valve Adapter with brass fittings

Instructions for use of CO2 inflation system

Vinyl Zippered Pouch (8" x 5" x 1")
Customer Reviews
This product has not yet been reviewed.