• Flat rate shipping of $10 + A FREE tire gauge on orders over $99* • FREE SHIPPING + A FREE tire gauge on orders over $199*
*This offer applies to items under 10lbs / cubed weight. No PO BOX or RR Addresses.
• 10% OFF In Store Pick Up - Use coupon code: THANKYOUCALGARY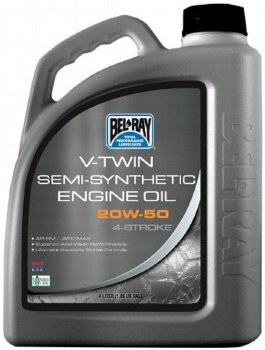 Belray V-Twin SS 20W-50 4Ltr
$72.00
Bel-Ray V-Twin - 20W50
Semi-Synthetic 4-Stroke Motorcycle Engine Oil


V-Twin Semi-Synthetic Engine Oil 20W-50 is a synthetic blend, multi-grade V-Twin motorcycle oil formulated to meet the specific demands of large displacement V-Twin engines. It combines the benefits of fully-synthetic oils with the lower cost of petroleum oils.
Customer Reviews
This product has not yet been reviewed.