• Flat rate shipping of $10 + A FREE tire gauge on orders over $99* • FREE SHIPPING + A FREE tire gauge on orders over $199*
*This offer applies to items under 10lbs
• 10% OFF In Store Pick Up - Use coupon code: THANKYOUCALGARY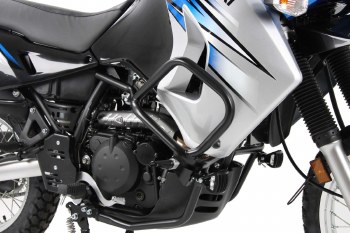 H&B KLR650 Eng/Tank Guard 08&U
$337.00
Hepco & Becker Engine Guard

Fits: Kawasaki KLR650 2008 & up


Whether you ride more on rugged terrain, on country roads or in town; a HEPCO&BECKER guard is always the right choice. Your motorcycle is always effectively protected against an unexpected mishap.
And even more: If the bike falls over or makes unintentional contact with the ground, it can protect both, bike and rider from more serious consequences.
HEPCO&BECKER protection bars follow the lines of the bike perfectly, giving it a customized appearance. Made with extremely stable tube-in-tube construction. Depending on the vehicle model, various surface finishes are available.


* Protection during pushovers or falls

* Helps, when tying up the motorcycle

* Premium surface finish

* Easy assembly

* Includes right side, left side, mounting kit and manual

* High quality german steel tube


* Other accessories in this picture are not included.
Customer Reviews
This product has not yet been reviewed.