• Flat rate shipping of $10 + A FREE tire gauge on orders over $99* • FREE SHIPPING + A FREE tire gauge on orders over $199*
*This offer applies to items under 10lbs / cubed weight. No PO BOX or RR Addresses.
• 10% OFF In Store Pick Up - Use coupon code: THANKYOUCALGARY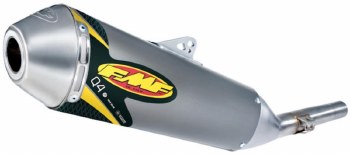 FMF Silencer Q4 KLR650 84 to07
$584.00
FMF Q4 Muffler for:

1984 - 2007 Kawasaki KLR650

FMF is the leader in high performance quiet technology and our Q4 is the next evolution in off road exhaust. The Q4 employs intricate chambers, baffles and proprietary multistage packing material making it the best performing quiet muffler available. With the Q4 you don't need to hear the power, just feel the power!

Max Sound output 96dB; most models below 93dB

Constructed from aircraft grade aluminum and high strength stainless steel

Use with FMF or Stock OEM Header

Removable spark arrestor included
Customer Reviews
This product has not yet been reviewed.