• Flat rate shipping of $10 + A FREE tire gauge on orders over $99* • FREE SHIPPING + A FREE tire gauge on orders over $199*
*This offer applies to items under 10lbs
• 10% OFF In Store Pick Up - Use coupon code: THANKYOUCALGARY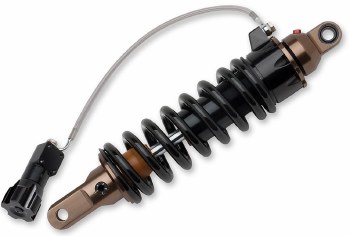 Progressive Shk 465 Ser W/RAP
$1,129.00
Progressive Suspension 465 Series Shock with RAP (Remote Adjustable Preload)

**** Standard Height ****

Fits:

1987 to 2007 Kawasaki KLR650

Description:

* High pressure gas monotube

* 5 Position rebound adjuster - Tune for changing conditions and riding styles

* Threaded body allows for fine adjustments in sag

* Aluminium body and components

* Hard anodized finish

* Hydraulic preload adjuster

Progressive Suspension has added our new R.A.P. (Remote Adjustable Preload) to our 465 Series line of high performance monoshocks. The 46mm bore shock is also stuffed with features like deflective disc damping, threaded body and a 5 position rebound adjuster. Setting it up to perfectly match your bike, weight and riding style is now a few clicks away. Includes remote mounting bracket. Stock height and lowered applications for Road Star, KLR650, Raider, ST1300, V-Strom, M109R and more.
Customer Reviews
This product has not yet been reviewed.