• Flat rate shipping of $10 on orders over $99* • FREE SHIPPING on orders over $199*
*This offer applies to items under 10lbs / cubed weight. No PO BOX or RR Addresses.
• 10% OFF In Store Pick Up - Use coupon code: THANKYOUCALGARY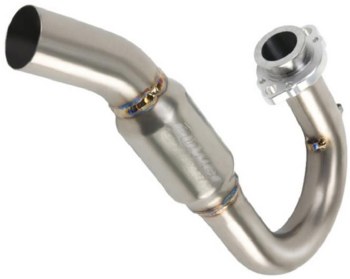 FMF Pbomb Header KLR 84 to 07
$405.00
FMF Powerbomb Header for:

1984 - 2007 Kawasaki KLR650

The redesigned PowerBomb is a four-stroke header that incorporates FMF's patented PowerBomb module at a precise location in the initial stage of the header. By positioning this "Bomb" at a key point in the system, increased performance and flow is achieved through the expansion and contraction of exhaust sonics through the system. Result is a flow increase of nearly 10%! The outer chamber in the Powerbomb allows the air to expand, cool and ramp back up at a higher velocity. Additionally, the PowerBomb is a "pre-muffler" of sorts which helps to lower the bikes sound output by providing more sound absorbing surface area for the sound medium (exhaust gases). On some models, you can choose between a moto or supercross version. The supercross version is designed for more low to mid-range power where the moto version is focused in the mid to upper RPM range.
Customer Reviews
This product has not yet been reviewed.