• Flat rate shipping of $10 + A FREE tire gauge on orders over $99* • FREE SHIPPING + A FREE tire gauge on orders over $199*
*This offer applies to items under 10lbs / cubed weight. No PO BOX or RR Addresses.
• 10% OFF In Store Pick Up - Use coupon code: THANKYOUCALGARY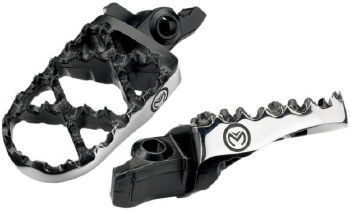 Moose Hybrid FTpegs 1/2in O/S
$139.00
Moose Hybrid Footpegs with 1/2" Offset for:

1987 - 2013 Kawasaki KLR650

Each footpeg is cast from 17-4 stainless steel, given a solution-annealing treatment, and age-hardened for superior strength

Width (57mm) and length (90mm); slightly convex platform for better boot positioning and grip when leaning forward or back

Dual-plane teeth provide traction without the "stuck" feeling

1/2" rear offset allow's more space

Use your OEM springs, unless your part number is noted under Mounting Spring

Sold in pairs

Made in the USA
Customer Reviews
This product has not yet been reviewed.