• Flat rate shipping of $10 on orders over $99* • FREE SHIPPING on orders over $199*
*This offer applies to items under 10lbs / cubed weight. No PO BOX or RR Addresses.
• 10% OFF In Store Pick Up - Use coupon code: THANKYOUCALGARY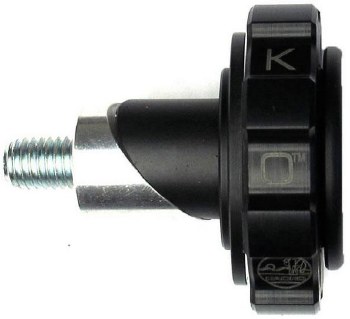 Kaoko KIT174 Req BarkBusters
$156.00
**** Requires Bark Busters! ****

Want Barkbusters Storm or VPS hand guards and a Kaoko Cruise Control? We've got you covered with this Barkbusters-compatible cruise control from Kaoko!


Features

Greatly reduces rider fatigue and strain on hand and wrist

While cruising, rider is able to remove hand from throttle grip, throttle opening will remain as set

Very simple to operate, even with heavy winter gloves

High quality, compact and durable design, super smooth action

Takes less than 5 minutes to fit

Very little maintenance is required

Less wear and tear on throttle cables and linkages

Can result in reduced fuel consumption


Fit with Barkbusters:

Kawasaki KLR650A, '86-'07

Suzuki DL650 V-Strom '-11 with BB.BHG41 (discontinued)

Suzuki DL1000 V-Strom '-11 with BB.BHG41* (discontinued) Confirmed fit with both Barkbusters AND Oxford Heated Grips


Does not fit:

Honda Varadero with BHG31 handguards

Kit does NOT include a replacement left-side bar end weight.

Kaoko Safety Warning: The Kaoko Cruise Control is an aftermarket accessory. Any misunderstood, abused or incorrectly installed motorcycle accessory is a safety hazard that could cause injury or death. It's the rider's responsibility to understand the operation and purpose for which the Kaoko Cruise Control is designed, namely, for cruising, only when safe to do so. At all other times the control should be disengaged. The Kaoko Cruise Controls are to be used only by experienced and responsible riders.
Customer Reviews
This product has not yet been reviewed.