• Flat rate shipping of $10 on orders over $99* • FREE SHIPPING on orders over $199*
*This offer applies to items under 10lbs / cubed weight. No PO BOX or RR Addresses.
• 10% OFF In Store Pick Up - Use coupon code: THANKYOUCALGARY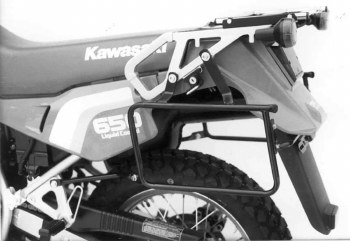 H&B KLR650 Side Carrier Upto92
$387.00
Hepco & Becker Side carrier

Fits: Kawasaki KLR650 up to 1992


HEPCO&BECKERs standard side carriers are firmly bolted to the motorcycle. All normal hard lugagge cases from Hepco & Becker fit this carrier. The cases are fastened to the carrier by means of a quick release fastener. For this purpose, an aluminum adapter is required which is normally included within the delivery of the case. (Item number: 700114) This aluminum adapter is screwed to the rear right and left of the carrier and offer the holder for the luggage lock.
The model-specific carriers are solidly developed and offer effective protection for the legs of the driver, or the passenger, even in the event of a fall.
The side case carriers from HEPCO&BECKER can usually be combined without problems with a tube topcase carrier or other rear racks systems from our company. Please refer to the mounting instructions.


* Construction of steel tube MADE IN GERMANY

* Tightly bolted to the motorcycle

* Signal lights usually remain in the original position, but sometimes they must also be displaced (please note the mounting instructions for the product)

* Recommended load: 10kg per side case (please pay attention to model-specific instructions of the motorcycle manufacturer or instructions on the mounting instructions)

* Right + left incl. mounting kit and instructions

* Luggage carriers do not require ABE or registration in Germany
Customer Reviews
This product has not yet been reviewed.