• Flat rate shipping of $10 on orders over $99* • FREE SHIPPING on orders over $199*
*This offer applies to items under 10lbs / cubed weight. No PO BOX or RR Addresses.
• 10% OFF In Store Pick Up - Use coupon code: THANKYOUCALGARY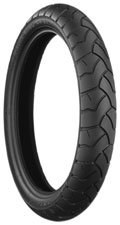 Bridgestone TW 110/80R-19F OEM
$183.00
Bridgestone TW Series Front Tire 110 80R 19

A 4-ply front/rear combination designed primarily for dual sport useSpecial dimpled tread pattern means many edges, which helps maximize tractionUnique front/rear combination provides balanced highway and offroad performance4-ply construction for long-wearing durabilitySelf-cleaning tread blocks still give a traction edge for muddy and loose terrains 110/80R19TL
Customer Reviews
This product has not yet been reviewed.