• Flat rate shipping of $10 + A FREE tire gauge on orders over $99* • FREE SHIPPING + A FREE tire gauge on orders over $199*
*This offer applies to items under 10lbs / cubed weight. No PO BOX or RR Addresses.
• 10% OFF In Store Pick Up - Use coupon code: THANKYOUCALGARY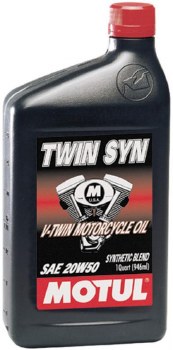 Motul Twin Syn Ester 20W50 1L
$16.00
Motul Twin Syn Ester - 20W50
Synthetic Blend 4-Stroke Motorcycle Engine Oil

1 Quart Bottle


Synthetic blend with ester 4-Stroke engine oil specially designed for HD motorcycles. Special additive package is tough enough to be used in the primary case of both large and small V-twin engines. Strong enough to handle the rigorous pressures of a wet clutch/gearbox combo or chain/wet clutch combo design.


Specifications:

Application: Engine lubricants

Engine Type: 4-Stroke

Quality: Technosynthese

Product Range: Motorcycle

Viscosity: 20W50

API Standards: API SL

JASO Standards: JASO MA M065MOT012


* Packaging may differ slightly *
Customer Reviews
This product has not yet been reviewed.