• Flat rate shipping of $10 on orders over $99* • FREE SHIPPING on orders over $199*
*This offer applies to items under 10lbs / cubed weight. No PO BOX or RR Addresses.
• 10% OFF In Store Pick Up - Use coupon code: THANKYOUCALGARY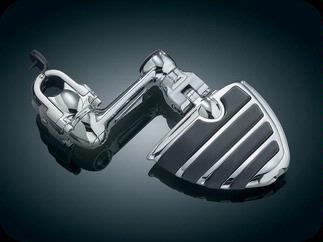 Kury Ergo Dually Peg 4050
$221.00
Ergo Cruise Pegs

for Valkyrie or GL1500

Ergonomically designed for maximum driver comfort, these mounts have an unbelievable range of adjustment for the tall, short or in-between rider. The articulated mounting bracket is made of highly polished stainless steel for extreme strength, great looks & simple installation. The 6" long chrome swing arm has an ingenious locking mechanism & is canted at a 6º angle which angles the pegs just the right amount for ideal comfort.
Customer Reviews
This product has not yet been reviewed.