• Flat rate shipping of $10 on orders over $99* • FREE SHIPPING on orders over $199*
*This offer applies to items under 10lbs / cubed weight. No PO BOX or RR Addresses.
• 10% OFF In Store Pick Up - Use coupon code: THANKYOUCALGARY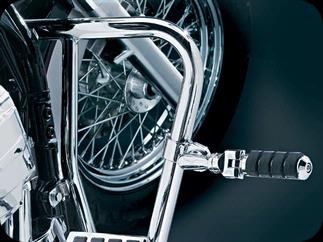 Kury RGT Angle 4514 1 1/4
$197.00
Footpegs With Right Angle Mounts & Magnum™ Quick Clamps

This mount is the answer for motorcycles with an engine guard that does not allow the installation of a traditional style highway peg. Most highway pegs position the peg perpendicular to tubing to which they are mounted, thereby limiting their use on engine guards that run vertically. The Right Angle Mount overcomes this limitation & will allow you to position the peg horizontally regardless of the orientation of the engine guard or frame tube.
Customer Reviews
This product has not yet been reviewed.