• Flat rate shipping of $10 on orders over $99* • FREE SHIPPING on orders over $199*
*This offer applies to items under 10lbs / cubed weight. No PO BOX or RR Addresses.
• 10% OFF In Store Pick Up - Use coupon code: THANKYOUCALGARY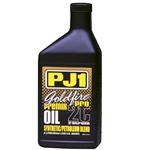 PJ1 Goldfire Pro Racing Oil 2T
$8.00
PJ1 Goldfire Pro Racing Oil 2T

Our Best Two-Stroke Oil

Formulated for very high RPM conditions

Minimizes engine wear

Extraordinarily clean burning

Keeps reed valves free of residue and operating at their peak performance

Originally developed in conjunction with Kenny Roberts' Grand Prix road race team under race conditions

Can be mixed up to 50:1

Racing grade synthetic pre-mix
Customer Reviews
This product has not yet been reviewed.