• Flat rate shipping of $10 on orders over $99* • FREE SHIPPING on orders over $199*
*This offer applies to items under 10lbs / cubed weight. No PO BOX or RR Addresses.
• 10% OFF In Store Pick Up - Use coupon code: THANKYOUCALGARY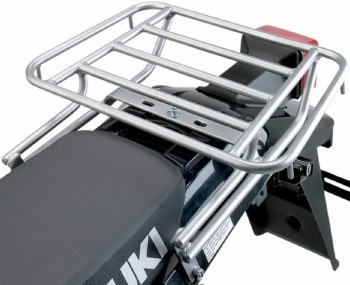 Moose Expedition Rack KLR 86+
$191.00
Moose Expedition Rack - KLR650 1986+

Moose # - 1510-0143


Description:

Steel construction with a powder coated finish

Easy bolt-on installation - some models require drilling

Medium sized rack designed to blend into the design of the motorcycle

Seats can be removed without rack removal

Most soft tail bags mount easily and securely

All mounting hardware included

Made in the USA

USE YOUR OWN JUDGMENT WHEN LOADING YOUR MOTORCYCLE. LIMITS MAY DEPEND ON RIDER EXPERIENCE, SPEED, TERRAIN TO BE COVERED AND WEATHER CONDITIONS

* The image is an example only, actual product will look different.
Customer Reviews
This product has not yet been reviewed.