• Flat rate shipping of $10 + A FREE tire gauge on orders over $99* • FREE SHIPPING + A FREE tire gauge on orders over $199*
*This offer applies to items under 10lbs
• 10% OFF In Store Pick Up - Use coupon code: THANKYOUCALGARY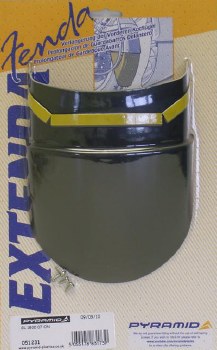 F/EXTENDA GL1800 07>
$42.00
Fenda Extenda fender extensions are manufactured by Pyramid Plastics and attach to your bike's original fender by drilling four holes in the guard and using the screws provided.


They fit neatly onto the mudguard to provide extra protection for the radiator and engine from road grit and gravel kicked up by the front tire.

The extenda fender helps:

Keep rider and bike cleaner

Cuts down on paint damage on the lower fairing

Protects important parts of the bike such as the radiator and oil cooler
Customer Reviews
Average rating:
---
Fenda Extenda for Honda Gold Wing GL1800, 26th Mar 2021
Reviewer: Patrick Frampton
For me this product really fit the bill. Unlike the other fender extenders on the market I was convinced to purchase this because others who bought it said they have had it for years and no issues with it catching or causing cracking or breaking on the OEM fender. Would suggest using silcone as a added securing of the extender along with the pins and double sided tape. Would also add for Pyramid Plastics to use a better quality double sided tape, something like what 3M sells. Overall love it.