• Flat rate shipping of $10 on orders over $99* • FREE SHIPPING on orders over $199*
*This offer applies to items under 10lbs / cubed weight. No PO BOX or RR Addresses.
• 10% OFF In Store Pick Up - Use coupon code: THANKYOUCALGARY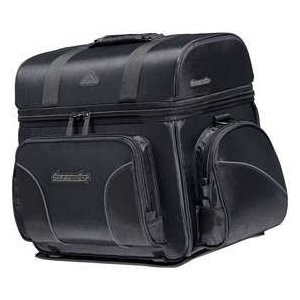 Tourmaster C3 Sissybar Bag MD
$270.00
Cruiser III Sissybar Bag Medium

Heavy duty, weather-resistant 840 denier and 1000 denier nylon construction

Universal mounting system expands from 6" to 14" and fits most styles of back rests

Removable neoprene layer is included to protect the motorcycle

Dark colored reflective piping and Tour Master's reflective triangle provide nighttime visibility

Hinged lid provides storage space and easy access to the main compartment and zippered retractable floor

Convenient carrying handle

Internal support panels hold the shape of the bag when empty or full

Integrated rain/dust cover deploys from a small pocket on the top of the bag

Multiple external pockets offer additional, easy-access storage space

Removable back pack straps

Dimensions:
14.5"h x 19.5"w x 11.5"d
Customer Reviews
This product has not yet been reviewed.