• Flat rate shipping of $10 on orders over $99* • FREE SHIPPING on orders over $199*
*This offer applies to items under 10lbs / cubed weight. No PO BOX or RR Addresses.
• 10% OFF In Store Pick Up - Use coupon code: THANKYOUCALGARY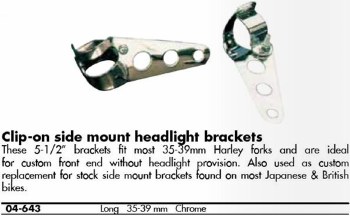 Emgo Headlight MNT BKT Side CH
$34.00
Headllight Bracket Universal Clamp On

Colour - Chrome

These 5-1/2" brackets fit most 35-39mm Harley forks and are ideal for custom front end without headlight provision. Also used as custom replacement for stock side mount brackets found on most Japanese & British bikes.
Customer Reviews
This product has not yet been reviewed.