• Flat rate shipping of $10 on orders over $99* • FREE SHIPPING on orders over $199*
*This offer applies to items under 10lbs / cubed weight. No PO BOX or RR Addresses.
• 10% OFF In Store Pick Up - Use coupon code: THANKYOUCALGARY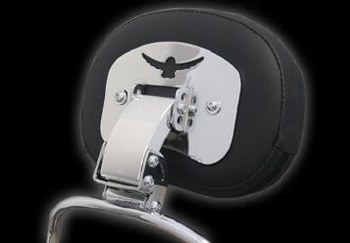 CW Backrest DVR 1600 Roadstar
$340.00
Custom World Drivers Backrest

Side mount (attachment type)
Plain pad
Folds flat and pivots backward
Adjustable forward / backward Height adjustable

Important Fitment Details:
Fits:

XV-1600 Road Star (99-newer)
XV-1600 Road Star Silverado (99-newer)
XV-1700 Road Star (04-newer)
XV-1700 Road Star Silverado (04-newer)

* NOT EXACT PICTURE
Customer Reviews
This product has not yet been reviewed.